ITHACA AIRLINE LIMOUSINE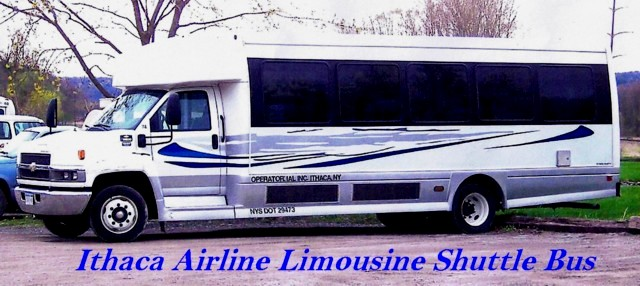 Welcome to Ithaca Airline Limousines website !! Ithaca Airline Limousine Service has been in business for over 30 years servicing Central New York . We are pleased to tell you about our service and some of the things you will need to know when travelling with us. Please scroll throught the tabs above to see the schedule to Syracuse – To Ithaca – To contact us – and to see prices.
Here are some of the prices for travel with us :
Local Travel to Ithaca AirPort : Contact us for Details , We do not pick up at Ithaca Airport unless special arrangements have been made and authorized by Ithaca Airline Limousine.CHARTERS : please contact us for pricing quoteTO SYRACUSE FROM ITHACA PER PERSON : $80.00 FOR ONE WAY / $110.00 FOR ROUND TRIPTO ITHACA FROM SYRACUSE PER PERSON : $80.00 FOR ONE WAY / $110.00 FOR ROUND TRIPTO SYRACUSE FROM CORTLAND PER PERSON : $50.00 / 70.00 ROUND TRIPTO CORTLAND FROM SYRACUSE PER PERSON : $50.00 ONE WAY / $70.00 ROUND TRIPWe accept MasterCard & Visa only !!WE NO LONGER TAKE CASH PAYMENTS FOR 1 WAY RETURNS FROM SYRACUSE OR ROUND TRIPS ORIGINATING IN SYRACUSE , CASH WILL BE ACCEPTED FROM ITHACA TO SYRACUSE ONLY !!We DO NOT accept Discover Card , American Express or Checks !DRIVERS DO NOT ACCEPT CREDIT CARDS OR CHECKS ! CREDIT CARDS MUST BE DONE THROUGH OFFICE ONLY !
Please be advised that 48 hours advance reservation notice is required to guarantee your seat.Next have your flight information ready when calling to make your transaction much smoother and quicker and please call as much in advance as possible (up to 30 days in advance) to allow yourself to plan for your trip as well as for us planning to transport you.