ITHACA AIRLINE LIMOUSINE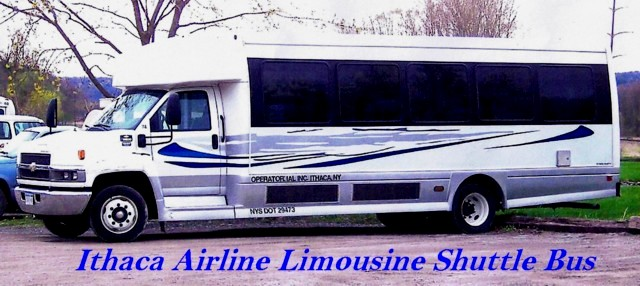 Welcome to Ithaca Airline Limousines website !! Ithaca Airline Limousine Service has been in business for over 30 years servicing Central New York . We are pleased to tell you about our service and some of the things you will need to know when travelling with us. Please scroll throught the tabs above to see the schedule to Syracuse – To Ithaca – To contact us – and to see prices.
Here are some basic requirements, rules , and information you will need to know when planning your trip with us.
Please be advised that 48 hours advance reservation notice is required to guarantee your seat.
Next have your flight information ready when calling to make your transaction much smoother and quicker and please call as much in advance as possible (up to 30 days in advance) to allow yourself to plan for your trip as well as for us planning to transport you.
Please remember when planning your trip , that approx. travel time between Ithaca and Syracuse is 1 hour and 30 min , possibly longer depending on traffic & weather conditions , so plan accordingly.
Extra luggage , pets , or unusual items that are being transported ( IE: bicycles , large items , etc etc…) are subject to an additional charge .
You are allowed " 1 " pieces of standard sized luggage bags at no charge , add $5.00 per extra bag to total travel costs .
Those people traveling to or from Cornell University , we have " designated " drop off points on West Campus and on North Campus , please remember this when booking with us on the phone and let us know what part of the campus you are on or going to .
Ithaca College traveler's going to Syracuse , please add 15 min earlier to your pickup times when planning your reservations with us .
We do not dropoff or pick up at any other points in Syracuse other than Amtrak or Hancock International unless special arrangements have been made with staff here at Ithaca Airline Limo.
ITHACA AIRLINE LIMOUSINE IS NOT HELD RESPONSIBLE FOR LATE ARRIVALS OR DELAYS IN FLIGHTS ! WE WILL HONOR YOUR TICKET FOR A LATER ARRIVAL TIME . IF YOUR ARRIVAL IS LATER THAN THE LAST VEHICLE TRANSPORT TIME ,THEN YOUR TICKET WILL BE HONORED ON THE NEXT BUSINESS DAY
IF THERE ARE NO PASSENGERS AT ALL FOR A CERTAIN TRIP TO OR FROM ITHACA OR SYRACUSE , THE TRIP MAY POSSIBLY BE CANCELLED WITH NO NOTICE , AND NO EXCEPTIONS ONCE IT IS CANCELLED , INCLUDING LATE ARRIVALS . SO PLEASE CALL AT LEAST 48 HOURS IN ADVANCE TO INSURE THAT YOU WILL BE GUARANTEED A RIDE .
ANY GRIEVANCES ON LATE ARRIVALS SHOULD BE TAKEN UP WITH YOUR AIRLINES , NOT ITHACA AIRLINE LIMOUSINE SERVICE.
THE DRIVER OF EACH TRIP IS NOT OBLIGATED TO WAIT ANY LONGER THAN 15 MINUTES PAST A LEAVE TIME FROM SYRACUSE AND NOT MORE THAN 5 MINUTES LEAVING FROM ITHACA , SO IT IS IMPERATIVE THAT YOU ARE READY WHEN THE DRIVER COMES TO PICK YOU UP !!
ITHACA AIRLINE LIMOUSINE IS NOT HELD RESPONSIBLE FOR LOST ITEMS IN OUR VEHICLES , WE WILL DO OUR BEST TO HELP LOCATE & RETURN THE ITEMS BUT ULTIMATLEY IF NOT FOUND , WE SHALL NOT BE HELD LIABLE FOR ANY COSTS OR REPLACEMENT.
ANY PERSON MAKING A REFUND REQUEST MUST CALL OUR OFFICES DIRECTLY .
Reservations ARE NOT taken online ! You MUST call to reserve your spot.
Any damage to our vehicles caused by a passenger traveling with us, will be the responsibility of the passenger to pay any and all fees incurred upon Ithaca Airline Limousine for repairs or replacement of damaged equipment.
Cancellations MUST be 24 hours in advance or passenger may be subject to a cancellation fee.